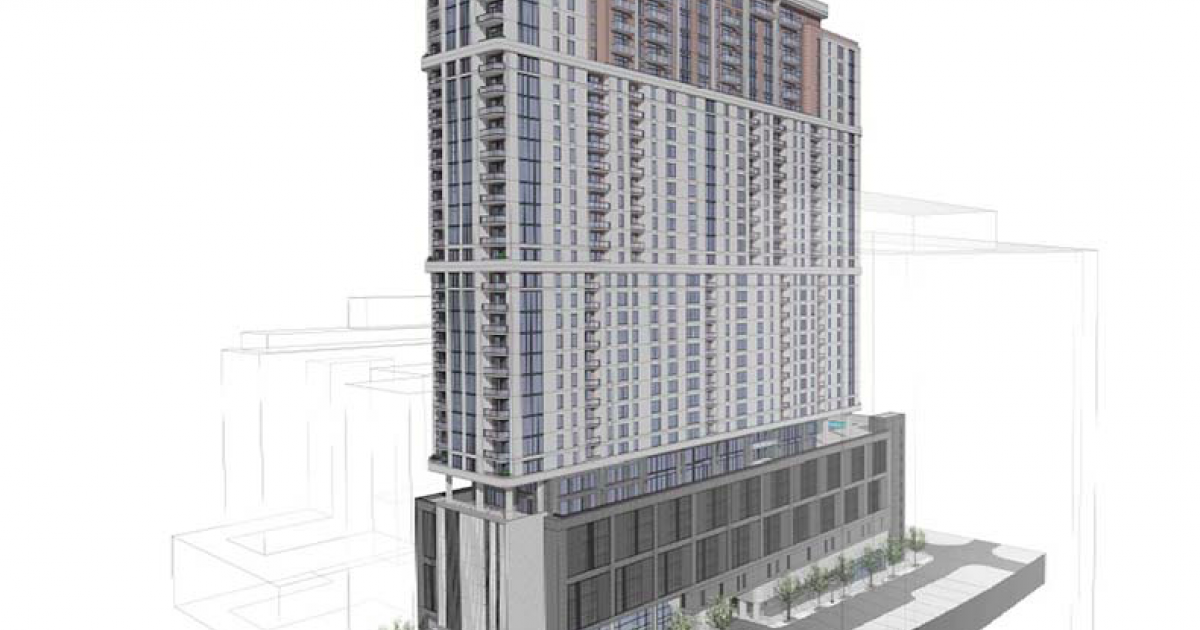 Designs emerge for high-rise proposal near Fox Theater
The trend of square apartment towers stacked about 30 stories above parking lots looks set to continue on Atlanta's flagship street.
Austin-based developer LV Collective has submitted plans to the city and presented preliminary designs to the Midtown Development Review Board, for a 37-story apartment tower that would replace a surface parking lot of nearly an acre on Peachtree Street.
The 736 Fisher Street plot—consisting of the southwest corner of Peachtree and 4th Street, with frontage on Cypress Street—is located approximately two blocks north of the Fox Theater on the same side of Peachtree.
Shots of the building profile along 4th Street, left, and Peachtree Street, right, where space for a cafe is included on the base level. LV Collective/Office of City of Atlanta Buildings; designs, Niles Bolton Associates
According to renderings that were revealed this week, the general shape of the building and the orientation of the gated parking lot over retail and lobbies could suggest a nearby apartment project that claims another surface parking lot on Peachtree Street: PMG's 31-story Society Atlanta Tower, now under construction where Peachtree meets 6th Street.
Ditto for Greystar's rising 33-story apartment stack near the High Museum, where Peachtree meets 17th Street.
And also CA Ventures' new 33-story project at Peachtree and Eighth Streets, though more glassy and with fewer projecting balconies.
The LV Collective tower would see the first 27 floors filled with various housing types (480 units in total), according to Midtown Alliance. (About three blocks away, the company is building a co-living student housing tower intended for attendees at Georgia Tech called Whistler, just south of The Cheetah strip club.)
Plans for the Niles Bolton Associates-designed tower also call for 3,000 square feet of café space overlooking Peachtree, with a rental office and residents' lobby at the corner of 4th Street.
Above would be an eight-level mesh parking podium with 489 vehicle spaces. The ninth floor would include the building's interior and exterior amenities, facing Cypress Street.
The 0.96 acre site is currently owned by an LLC called West Peachtree Ventures. It hasn't sold since costing just over $8 million in 1999, according to Fulton County property records.
Midtown Alliance plans to release a summary of DRC's recommendations for the project today, and we'll post highlights here as they become available. Head to the gallery above for more images and context.
• Recent news from Midtown, discussion (Urbanize Atlanta)