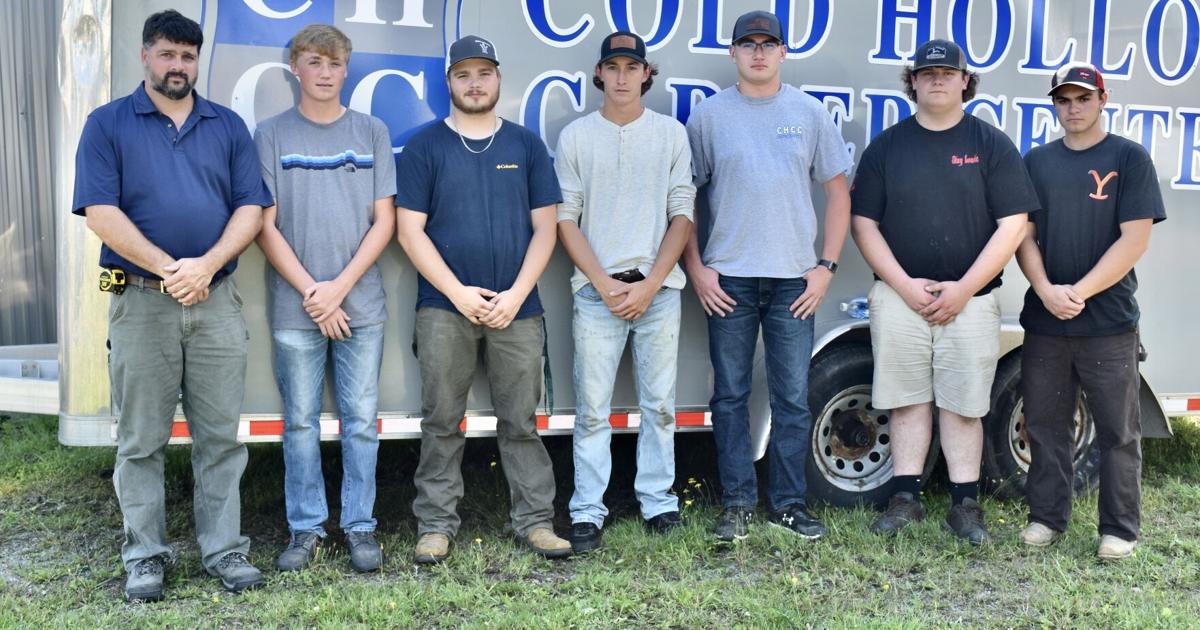 Cold Hollow designs new sugar shack to be built if school board approves $350,000 loan | Local News
ENOSBURG FALLS — If the school board approves Tuesday night, forestry and architecture seniors at the Cold Hollow Career Center will begin construction of a brand new sugar shack.
"The forestry program came to us last year and said they wanted us to build a sugar shack," said Seth Hungerford, educator for the building technology program at Cold Hollow. "We act as general contractors. So we sat down with them and asked them what they needed, what they wanted, all in one.
For over 30 years, the existing sugar shack on Daigle Road was used by the community and leased to landowner Ward Heneveld. The road is named after former forestry instructor Charlie Daigle. The hut is approximately 24 by 48 feet, room for a small group of students to cram inside.
"His [the sugar house] quite small," said student and sugar bowler Cayden Yates.
Now a bigger sugar shack is needed, and if the Enosburg Richford Unified School Board approves a loan of up to $350,000 Tuesday night, students will send out bids to local contractors and begin building frames for their new cabin on CHCC property.
ERUSD exists within the Franklin Northeast Supervisory Union.
The class visited several sugar shacks to flesh out their design idea, including Connor Maple Farm, Branon Family Maple Orchards, and Green Mountain Mainlines, owned by sugar maker JR Sloane.
The students have since dreamed up and come up with their own designs for an eight-room cabin, combining the dimensions and diagrams for their final potential design.
The architecture students then drew nine other drawings to reflect the specificities required by the forestry program.
If approved, the sugar shack is expected to be completed by the 2024 sugaring season, allowing forestry students to operate CHCC's nearly 100-acre maple grove, which will once again feature 2,500 taps. added this year.
The new space will also allow older students to teach younger students the Vermont tradition of sap boiling.
"This program isn't just about what we learn," Yates said. "It opens up pathways. We're going to see things happen on a larger scale. This connects us with different companies. We see a bit of everything. »
The new sugar shack
The current shack was designed as a primitive wood-fired boiler system in the late 1980s. The infrastructure is outdated and as sugar continues to be a viable career with optimized technology, students need access to state-of-the-art machinery and more space.
The former sugar shack can comfortably accommodate about 10 people inside, which makes it difficult to organize lessons around sugar with an entire class.
The design of the new shack was a collaborative effort between Hungerford and his students, and will be open to the public as a community sugar shack. It will have plumbing connected to the water and sewers of the village of Enosburg, a space large enough to accommodate field trips and be able to exploit and process syrup.
"We all sketched out designs that we thought would work," Yates said. "We ended up going with Tommy [St. Onge] and Quincy [Decker's designs] to assemble … [this sugarhouse] would be able to handle a lot more syrup than it will [likely] see [immediately]. We build for the future.
The loan, if approved by the school board, will allocate $350,000 from the capital reserve fund, and further discussions on a repayment plan are yet to come. So far, the students have estimated that they would need $70,000 in framing materials and that the cabin would have a standing seam roof.
On Monday, Levi Irish, a Career Center Co-op Coordinator, was working with first-year forestry students from Enosburg, Richford and Missisquoi Valley High School to apply for a $25,000 grant through the Social Services Grants and educational institutions in the state of Vermont. Program.
Funds from the Forestry Program and the Natural Resources Club will match that, Irish said, and Owen Kane and Brady Farrar have written letters of recommendation.
Freshmen also meet potential donors. Their efforts are rooted in keeping the cultural traditions of sugar and their Vermont heritage alive and safe.
The Forestry Program signed its final three-year lease for the former sugar shack in 2020 and will continue to use the sugar shack until the summer of 2023.
The life of a sugar bowl
"At last count, we had over 65 alumni in our community working in the maple syrup industry," said Nate Demar, Director of CHCC. "Maple maple syrup is an integral part of our community and Franklin County…That's why we have taken this path to develop and continue to develop maple syrup as a tradition.
The syrup produced by the forestry students is then sold, sometimes sold in bulk and other times resold to CHCC's hot meal program. Many teachers in the district end up with a bottle of syrup on the family table.
All proceeds from syrup sales benefit the program and, in the case of this project, would help support construction of the new sugar shack if more funds are approved on Tuesday.
In terms of production, Hungerford and his sugar students are also hesitant to predict how much syrup should be produced in the new shack. It's a sweeter thing, Hungerford said, and the numbers aren't a frequent topic of discussion.
"Enough to put on the table," Hungerford said. "The season will not be as good as some years, but better than others."
"Good," Yates said.