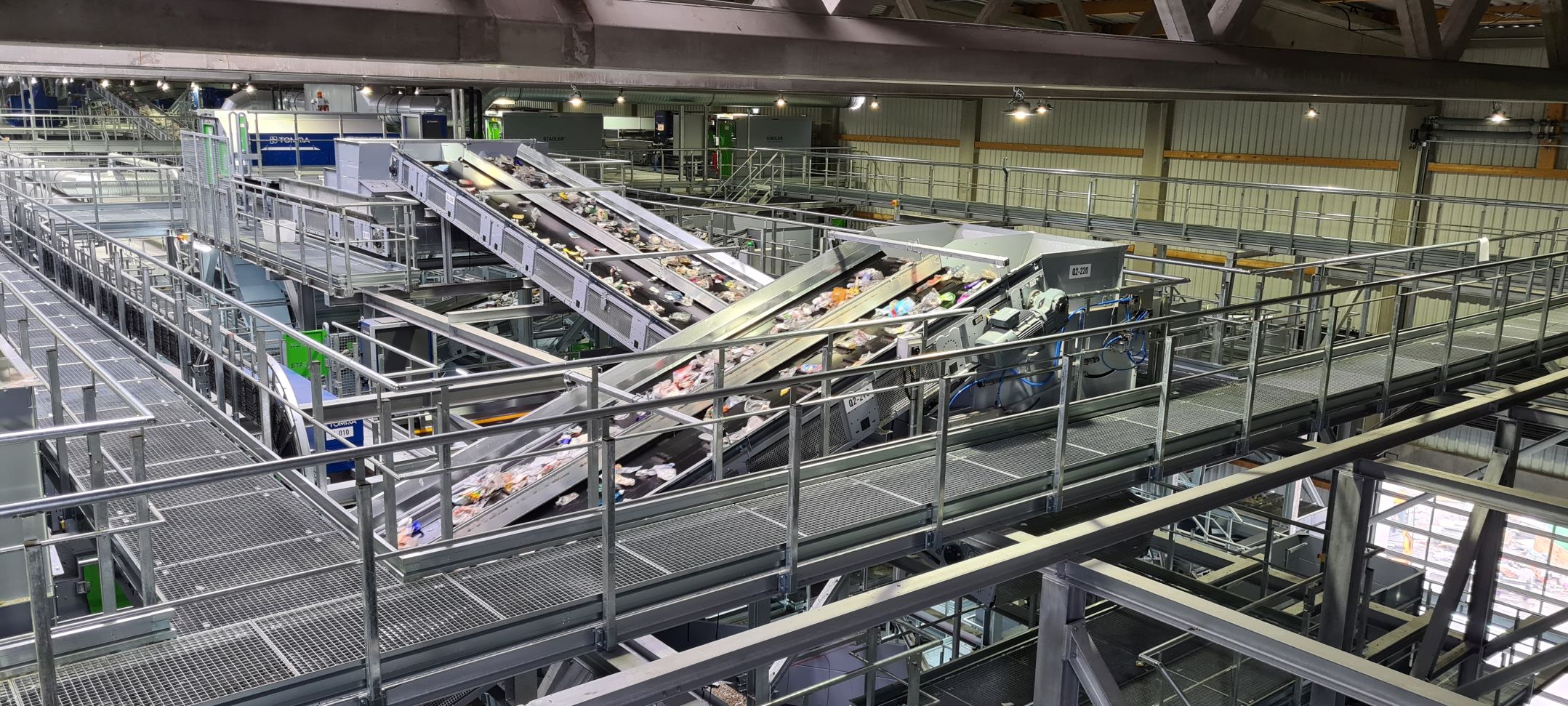 Stadler designs lightweight packaging sorting facility for PreZero
As part of this strategy, Stadler commissioned Stadler to design and install a new state-of-the-art lightweight packaging sorting facility in Eitting.
The new facility is Europe's most advanced lightweight packaging sorting plant, capable of sorting packaging fractions by color and, very importantly, even filtering out black plastics. This results in very high quality production that can be recycled into new products. With an annual throughput of around 120,000 tons, it is also the largest light packaging plant in Europe.
The sorting plant receives lightweight packaging consisting of tin foil, ferrous and non-ferrous scrap, aluminum, composites containing aluminum, PE plastic films, nets and foam, PP plastics and PS, EPS bottles, PET, other PET, PVC and plastic packaging, TetraPak cartons, paper and cardboard. The process, which includes advanced fines preparation and automated film color sorting, results in 18 different output fractions separated by material and color.
The design required the spirit of innovation that is the hallmark of Stadler's design teams: "It was the biggest project yet for us, with 272 conveyor belts installed filling the hall on five levels and supported by more than 1,000 tonnes of structural steel", explains Wolfgang Köser. , co-project manager. "To achieve the high-quality sorting that PreZero was looking for, we used state-of-the-art technology in our design," adds Benny Kalmbach, co-project manager. "The state-of-the-art equipment included 38 NIR (Near Infrared) optical sorters, our ballistic separators and robot-assisted secondary sorting."
Stadler's design team developed a design that not only offered the required output quality and capacity, but also ease of use. "The continuous level concept facilitates the operation of the system and ensures good accessibility to all cleaning and maintenance equipment," explains Wolfgang Köser.
The fully automated management of the plant's hoppers is another state-of-the-art process: "This means, for example, that there are no longer any personnel permanently attached to the press. In addition, desired bale weights – and therefore bale lengths – can be achieved according to customer specifications thanks to load cells under all hoppers. This has the advantage that the trucks can be optimally loaded for the best possible transport result," explains Benny Kalmbach.
Thanks to close and fruitful collaboration between the Stadler and PreZero teams, the project was completed in a very short time, as explained by Wolfgang Köser: "We had a very tight schedule, with only 12 months between the signing of the contract and the start with hardware, but we succeeded thanks to good and close cooperation between us at Stadler, the PreZero teams and the other companies involved in the project. Short decision-making processes and a focused approach allowed us to move quickly at every stage.
Stefan Kaiser, Head of Engineering Sorting Systems International PreZero Recycling Deutschland, is very satisfied with the whole process and "the open communication, straight-forward thinking, focused and fast collaboration and on-time delivery. I particularly appreciated the listening to the customer by the STADLER team and their proactive thinking on new ideas, acting as partners.
The start-up of the sorting plant was scheduled for early January 2022, and "the ramp-up phase is going perfectly", specifies Stefan Kaiser.