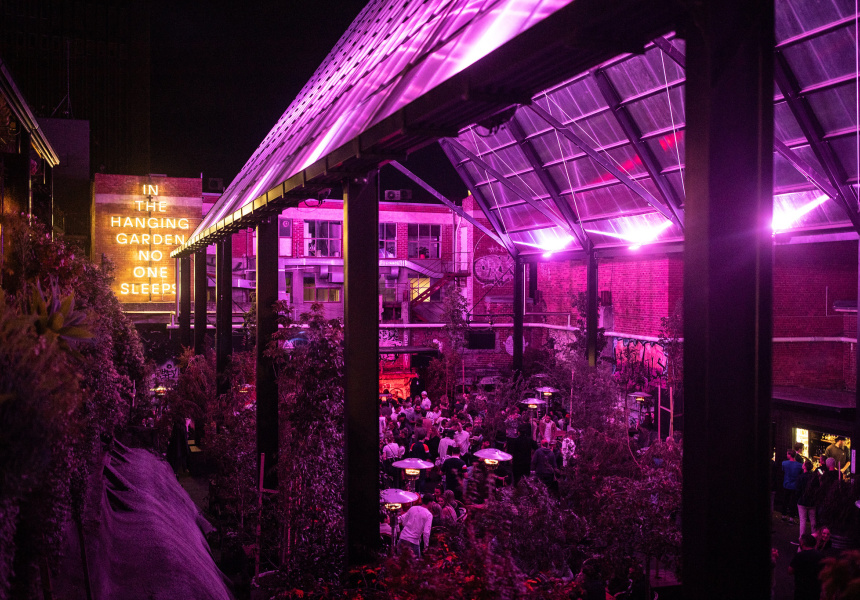 Restaurants, bars and cafes for your next visit to Hobart
If you've been to Hobart, you'll know it has some amazing food and drink: Dier Makr, Lucinda Wine Bar, Tom McHugo's, Fico, Templo and just outside of town, the Agrarian Kitchen. But there are also newer places you might not have been, ones worth a visit for a big meal or just a drink. Here are the places to consider on your next visit to the city.
In the hanging garden
Encompassing almost an entire city block in central Hobart, In The Hanging Garden is an ambitious cultural and musical district that opened during Dark Mofo in 2019. Darklab (which is part of Mona) and Melbourne architects Fender Katsalidis have worked together to reinvent a couple of historic buildings – including the Odeon Theater – to create this huge, scalable public space with bars, restaurants, a nightclub and a multi-level beer garden. Like the place itself, the food will change over time, but for now it's Pan-Asian Restaurant Oryza, along with cheeses and beers from the respected Bruny Island Cheese Co. "Come Lunch, Stay have a drink, then catch a band or one of the dance floors, "says Rebecca Fitzgibbon of DarkLab.
112 Murray Street, Hobart. More info here.
Will have
If you like to soak up high, this is for you. Aura sits atop a tall building in the CBD and therefore offers stunning views of Hobart from its floor-to-ceiling windows. The restaurant revolves around a central bar, and punters can watch cocktails prepare and new chef Joey Astorga prepare delicate dishes. (Astorga lists Sydney's progressive and now closed vegan restaurant Paperbark on her resume and you can see her influence here.) Owner Alexia Kalis says her favorite dish is Astorga's black-lipped abalone yakitori with teriyaki mountain pepper. Rooftop bars aren't really a thing in Hobart – in fact, when Aura opened in 2020 it was the city's first high-rise rooftop bar – and talking to Kalis you get the feeling that she has great ambitions for Aura. "We wanted to create a theater experience that is very different from anything you see in Tasmania."
Level 12, 110 Liverpool Street, Hobart. Find more information here.
Ti Ama
Husband and wife duo Isabella Lubiana and Joel Edwards kicked off their pizza-making career in 2015 when they opened the popular local pizza near Mona, serving slices as they had learned at home with the Italian family. from Lubiana. "The fine, authentic pizzas we made at home didn't exist in Hobart," she says. Large format. "We cold ferment our pizza dough for 72 hours to provide incredible flavor and digestibility with virtually no yeast," adds Edwards. Lubiana describes their second location as "a little more glitzy" with a greater emphasis on drinks. "We wanted a chic space that had some bling; I love the sparkle, "she said, referring to the disco ball pizza oven. Ti Ama is in the heart of town, in Battery Point, and with pizza you can get homemade pasta (gnocchi is great), cacio e pepe fries, and lots of different spritzes.
Boutique 13, 13 Battery point on the Esplanade de Castray. Find more information here.
Dubsy is at Mona's
Mona's casual open-air burger bar, Dubsy's, launched in late 2020 as part of the cultural institution's revamped post-Covid offering. Named after Mona's owner and founder David "Dubsy" Walsh, the lawn-front gallery venue serves dishes inspired by American dinners and the menu is divided into "burgers" and "no burgers." "As part of our ever-evolving food philosophy, the menu is almost entirely vegetarian or plant-based," says Mona co-CEO Mark Wilsdon. "Where meat is still present, wild and low impact animals will replace their highly raised counterparts. And now there are hot fries. We have never served hot fries to Mona before, so this is big news in our world. Dubsy's launch coincided with the reopening of Mona Faro's experimental and immersive restaurant, which combines live music, art and drinks with food from executive chef, Vince Trim.
Mona, 655, main road, Berriedale. Find more details here.
Fraternity
Yasmin Chung bought an existing cafe in Sandy Bay and, after emptying it and working with design studio Biasol, opened up a welcoming space with lots of natural light, hanging plants and rattan furniture. It serves a brunch menu all day, under the responsibility of Chef Josh Mathewson. There are the usual culprits like avocado on toast, but also breakfast pasta and eggs folded with braised duck. Chung says his choice of dish is the breakfast bowl, filled with salad, sauerkraut, pickled carrots, and homemade hummus. Or the Reuben sandwich, but only on his days off. "It's the kind of food you need after a nap. If you love dogs, this is also a great place to pet good boys and girls – they're encouraged, and there are even puppy treats on the menu.
4/48 King Street, Sandy Bay. Find more details here.