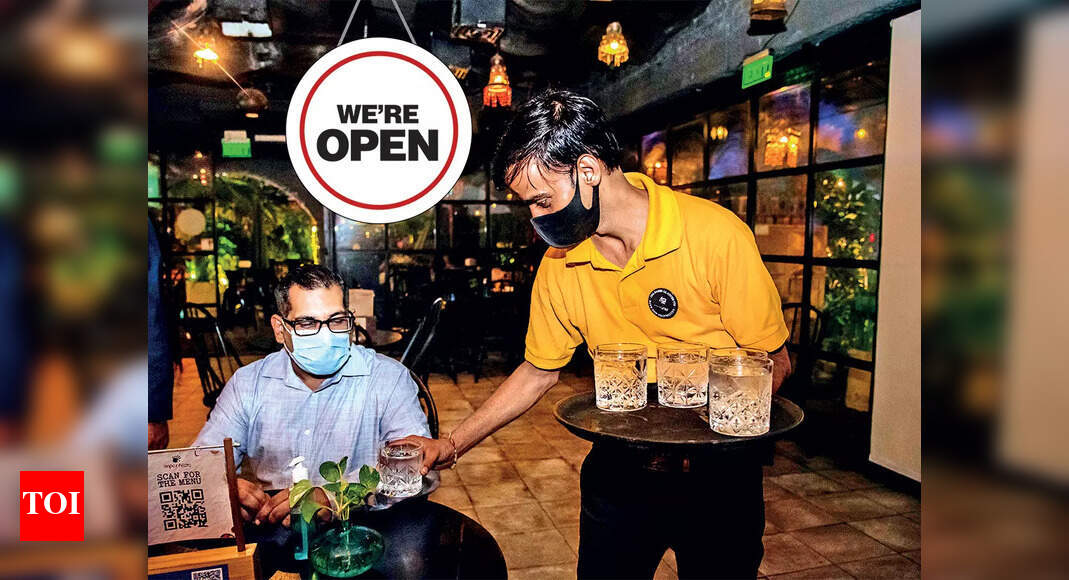 Restaurants and bars reopen in Delhi; "Also end other restrictions", plead the owners | Delhi News
At a meeting held on Thursday, the Delhi Disaster Management Authority (DDMA) decided to allow restaurants and bars in the city to reopen with 50% occupancy. After being closed for dining for nearly 15 days due to an increase in COVID cases in the city, the reopening is a relief for the hospitality industry which feared temporary closures and job losses during the pandemic. On January 25, the National Restaurant Association of India (NRAI) had also written a letter to Delhi Chief Minister Arvind Kejriwal asking him to lift restrictions on restaurants in Delhi. News of the reopening just two days later is reassuring to the hospitality industry, although the owners believe it is time for other restrictions imposed on them, such as 50% occupancy and restricted hours, to be also lifted. "If flights can operate at full occupancy, why can't restaurants?"
Restaurateur Zorawar Kalra said: "We are delighted with this news and it is a huge relief for our industry, which is one of the most affected. The sector suffered huge losses with 25% permanent restaurant closures after the second lockdown. As an industry, the safety of our customers and colleagues is the top priority and we will fully adhere to the 50% occupancy rule, however, if cases remain low, we really hope that even these restrictions will be reconsidered as this will play a key role in ensuring the survival of the industry. It is our humble opinion that if flights are allowed to operate at full occupancy, then restaurants, which have a much greater distance between tables, should be similarly allowed.
Restaurant owner and head of the Delhi branch of the NRAI, Priyank Sukhija, said the recent closure, which came months after the reopening, had a huge impact on restaurant and nightlife business in the capital. . "Although the reopening of restaurants and bars for meals is a welcome decision, there are cities like Mumbai that have not closed restaurants even for a single day. I think it is high time that restaurants be allowed to operate without restrictions like other businesses," says Priyank. While restaurateurs hail the decision to reopen restaurants in the nation's capital, many still worry about the nightly curfew "Longer opening hours will help generate better revenue"
On Thursday, it was also decided that although the weekend lockdown will end in Delhi, the night curfew (10 p.m. to 5 a.m.) will continue, which is another challenge for restaurateurs. "Night curfews are a big obstacle for us because people work during the day and prefer to go out late for dinner. Longer opening hours can help with better table turnover and will generate revenue," says restaurateur Dinesh Arora. Restaurateur Akshay Anand adds: "Our dinner clientele starts coming around 9.30-10pm and at that time we have to close. Dinner hours bring us 80% of our income and I don't think we can get that income even if we reopen. So we hope that we will be allowed to open until our license hours. Satyajit Dhingra, Regional Manager – North for a restaurant chain, says: "The constant closures and rules that prevent us from operating to our full potential won't help much. We urge the government to help us with sustainable solutions to allow this industry to regain its footing. Although we have been working at 50% capacity, we are also urging the government to reconsider the time restrictions. Allowing us to stay open within license closing times will actually reduce overcrowding and allow us to serve our customers in a systematic way. "To recover from the kind of losses we have suffered over the past two years, we should be allowed to operate without any restrictions," adds restaurateur Vikrant Batra. "We call on the government to support the hotel sector'
Many restaurants have had to close permanently, while others are on the verge of closing, leading to job losses for many. Restaurant owners say the industry needs urgent government support to survive. "After two years of severe losses, we humbly request some form of government assistance, starting with the reinstatement of the ITC (input tax credit) as this will help keep our heads above water and there may be some hope of recouping the losses," says restaurateur Zorawar Kalra. Restaurateur Amit Bagga adds, "We hope the government will start to recognize the food and drink industry and give us some relief, like the authorization of the GST on inputs, which will help encourage new investment and, therefore, create more jobs.