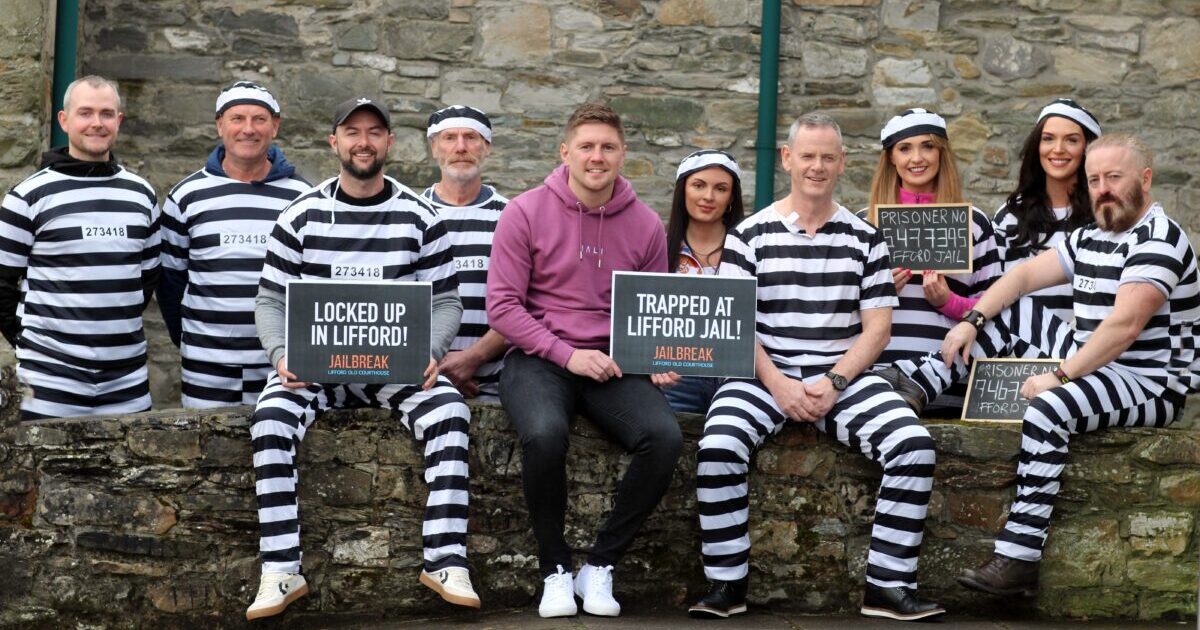 Donegal celebrities go behind bars for historic charity fundraiser – Donegal Daily
Thirteen well-known faces from Donegal are set to be locked down for a unique charity fundraiser later this month.
'Jailbreak' takes place in the old courthouse in Lifford and familiar faces will leave their families for one night and stay in one of the courthouse's old jail cells to raise money for the charities of their choice . It will be the first time in over 100 years that prisoners will return to the historic Lifford cells.
Participants include TV presenter Grainne Gallanagh, Highland Radio presenter John Breslin, boxer Jason Quigley, digital media guru April McManus, local singer-songwriter Kenny Crawford, editor of Donegal Woman Rachel McLaughlin, No Barriers Founder Johnny Loughrey, Sports Director Patsy McGonagle, Irish Influencer Caoimhe Harkin, Donegal Coolest Place on the Planet hosts Erin McGinty and Viking Dippers trio Paddy Browne, Bobby Roberts and Frank Power.
As part of Jailbreak, each participant will have to raise money to escape the cells after a locked-down night, and charities include Donegal Hospice, Cancer Care West, ALONE Donegal, No Barriers Foundation, Breast Cancer Research, Asthma Society of Ireland , Little Angels School, Ohana Zero Suicide Training and Rocco's Road To Recovery. To donate, see idonate.ie/jailbreak2022.
Gillian Graham is the manager of Lifford Old Courthouse and she says Jailbreak is a great way for businesses, charities and local organizations to raise money for their groups, schools or clubs: "Situated in the heart of Lifford, Lifford Old Courthouse has been used extensively by the community and local groups over the years, with all revenue reinvested to improve our facilities and create additional jobs. We have also partnered with local groups to provide services to the wider community, such as Meals on Wheels. Our Jailbreak games have proven to be very popular with school groups, hens and stags and other groups and we wanted to take this even further with a nightly Jailbreak event which could be used as a new medium for charities and organizations local fundraisers. I hope the upcoming event with the Thirteen Braves will spread the word about what we do and how other groups and organizations can book.
Gillian has been involved in social enterprises for over 25 years. "There are many great social enterprises throughout Donegal and we are delighted to be able to showcase what they are doing. It's great to have representatives from other social enterprises like Johnny Loughrey from the No Barriers Foundation and Patsy McGonagle from Finn Valley AC.
"As well as raising money for charity, we really hope this event will also raise awareness of the importance of social enterprises to the local community and the wide variety of work we do.
"The event was made possible through the ARISE programme, an awareness campaign for social enterprises across Ireland. A social enterprise is a business that primarily works to improve people's lives, reinvesting all profits back into their core mission. Lifford Old Courthouse is one of many social enterprises in Donegal and we are delighted to be able to show what is possible with community run groups.
Looking forward to the event, Patrick McHugh, Events Manager at Lifford Old Courthouse, said: "We are so delighted with the very first Jailbreak event on April 29 and cannot thank the participants enough for their time and support. . The group will be participating in various games to win treats and rewards for the evening and we would like to thank local sponsors for their continued support. The group raises funds for brilliant organizations and charities and I hope people can support them in their endeavors. We'll be posting a series of videos online through our social media platforms, so be sure to check them out for more. You can donate online at www.idonate.ie/jailbreak2022.
Established over 25 years ago, Lifford Old Courthouse has the overall aim of preserving the historic building, creating local jobs and promoting arts, heritage, culture and community in and around Lifford. The East Donegal social enterprise employs ten people.
The Jailbreak project has been approved by the government with the support of the Dormant Accounts Fund. For more information about Lifford Old Courthouse or to find out how to organize your own Jailbreak charity event, visit liffordoldcourthouse.com or call +353 (0) 74 91 41733. To donate, see idonate.ie/jailbreak2022.
Donegal celebrities go behind bars for historic charity fundraiser was last modified: April 8, 2022 by Personal editor
Keywords: